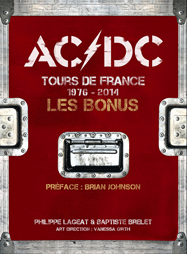 Big size : 9 x 11-7/8 inches for 304 pages
Hardpaper cover
Weight : 1,8 kg
Langage : french
Publisher : Editions Point Barre
Printed in France
N°ISBN : 979-10-699-0649-5

Flashback. In october 2014, Editions Point Barre published « AC/DC Tours de France 1976-2014 », a monumental 712 page-coffee book telling everything about what the mythical rock band AC/DC did in our country. This extraordinary book has been approved unanimously by the medias : TV's, radios, press, etc. And also by the fans, our greatest reward. Even better – and it was a premiere – AC/DC members themselves saluted this book, starting with the guitarist Angus Young and the singer Brian Johnson (« It's a very detailed book. All the tickets, all the concerts we've done… It's just UN-BE-LIE-VA-BLE ! »). Norbert « Nono » Krief, guitarist of the french band Trust, even talked about « a true bible for posterity ! ».
Since the release of that book, the authors, Philippe Lageat and Baptiste Brelet, have returned in their archives and found hundreds of new pictures (most of them never seen and never published before) taken between 1976 and 2014. Amongst their best finds, fantastic colour shots from the Pavillon 1976 Paris show, never seen pictures from Claude Gassian (Stadium 78, Paris), incredibles shots from the Highway To Hell Tour 1979/80, a fascinating glimpse in the archives of the famous weekly Paris Match (Paris 1980), but also wonderful pics from Marco Delavaud (Paris 1982) and Renaud Corlouër (2000), Angus' meeting with the french bluesman Paul Personne (2000), and a myriad of images from the french Black Ice Tour 2009/2010. And much, much more !
Here's the true treasure of that Volume 2 which includes also some exclusive interviews with characters like Jake Berry (production manager) and Paul Scottie Wright (first european tour-manager of the band) who, never before, accepted to tell all about their AC/DC stories. Please remember that this Volume 2 will FIRST AND FOREMOST FOCUS ON PICTURES. IT ISN'T THE SEQUEL OF VOLUME 1, BUT ITS 304 PAGE-LIL' BROTHER, HIS IDEAL COMPANION. A book full of never seen bonus stuff to close the « 1976-2014 » before the release, later on, of a volume 3 telling all about the 2014-2018 era.
« AC/DC Tours de France 1976-2014 – Les Bonus » is available in a DELUXE EDITION ONLY AVAILABLE ON THIS PAGE. This collector item will be sent to you WITH 3 EXCLUSIVE 8"1/4 x 10"5/8 inches LITHOGRAPHIES AND A LUXURIOUS SLIPCASE (only available HERE !). PLEASE NOTE THAT THIS VERY LIMITED DELUXE VERSION WILL NEVER MAKE IT IN THE STORES and is available for the SAME PRICE as the « regular » book available in stores !!! Please don't wait any longer and order your Deluxe Edition copy NOW !