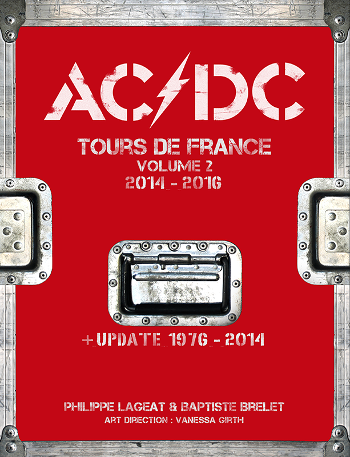 Nous travaillons déjà à la conception d'un Volume 2. Celui-ci retracera le parcours d'AC/DC en France de 2014 à 2016 (2017 si le « Rock Or Bust Tour » venait à durer) : photos exclusives, nombreuses interviews de premier ordre et documents rares, etc. En cela, il sera le prolongement direct du Volume 1. Il renfermera aussi, dans sa seconde partie, un grand nombre de clichés et de témoignages (sur la période 1976/2014) n'ayant pu apparaître dans le premier volume. Si vous avez des documents susceptibles de nous intéresser (concernant UNIQUEMENT la France), toutes époques confondues, écrivez-nous ci-dessous ou à l'adresse contact@acdclelivre.fr. De même, si vous voulez suivre l'élaboration de ce Volume 2 et être le premier informé de son évolution, inscrivez-vous ci-dessous à notre newsletter. L'histoire n'est pas encore finie !
We are already working on a Volume 2. It will tell the story of AC/DC in France between 2014 and 2016 (2017 if the « Rock Or Bust Tour » goes on and on…) : exclusive pictures, tons of interviews, rare documents, etc. It will be the sequel of the Volume 1. In its second half, it will also contain a lot of updates regarding the « 1976/2014 » era which didn't make it in the first volume (pix, interviews, etc.). If you have cool pix or docs from all eras (regarding France ONLY), please write to us by using the form below or e-mail us at contact@acdclelivre.fr. If you want to receive regular news about the Volume 2 and its making, please ask for our newsletter below. The story isn't over yet !
Vous avez des documents ou des photos absents du volume 1 ?
You have documents or pix which don't appear in the volume 1 ?
Vous voulez être régulièrement tenu au courant de l'avancée du projet ?
You want to receive newsletter regarding this volume 2 ?