Seven years. It took seven years to Philippe Lageat (editor of the monthly mag Rock Hard, editor of the Let There Be Light fan-mag, ex- Hard Rock Magazine) and Baptiste Brelet (webzine Can't Stop AC/DC) to write this huge book telling the story of AC/DC in France from 1976 to 2014.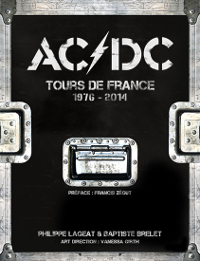 712 pages
Big size : 9 x 11-7/8 inches
Hardpaper cover
Weight : 4.5 kg
Langage : french
Publisher : Éditions Point Barre
Printed in France
N°ISBN : 978-2-7466-7071-6

In this 712 page « coffeebook type » book (its size is 9 x 11-7/8 inches and its weight is 4 kilos !!!), Philippe and Baptiste analyse EVERY MOVE AC/DC did in France… ever : 62 concerts (ALL of them are « dissected »), the recording of two albums (For Those About To Rock and Blow Up Your Video), a movie (Let There Be Rock : The Film), TV and radio programs, signing sessions, jams, etc.
Readers will also discover more than 1300 pictures (85% of them are « never seen » til now) shot by the biggest french names (Claude Gassian, Marc Villalonga, Youri Lenquette, Pierre Terrasson, Georges Amann, Marc Delavaud, Alex Mitram, Fred Doré, etc.), but also by fans. More than 1200 documents appear also in the book (ticket stubs, tour-posters, passes, t-shirts, memorabilia…), and « 100% made in France » discography, bibliography and « bootlegraphy ». Plus all the AC/DC front covers published by french magazines.
More than 200 interviews have been done by the authors of this book : opening bands, roadies, record company people, tour-managers, fans, promoters, etc., all of them have answered our questions, exclusively for this book, included a lot of musicians : Bernie Bonvoisin, Norbert Krief, Vivi, Ray, Jeannot & Moho (Trust), Ozzy Osbourne (Black Sabbath), Georges Bodossian (Ocean), Dave Meniketti (Y&T), David Coverdale & Bernie Marsden (Whitesnake), Slash, Simon Philipps, Rob Halford, K.K. Downing & Ian Hill (Judas Priest), The Wildhearts, King's X, Karoline, Maggie Bell, Mick Mars, Vince Neil, Nikki Sixx & Tommy Lee (Mötley Crüe), Patrick Rondat, Renaud Hantson & Pierre Guiraud (Satan Jokers), Ganafoul, Don Dokken & Jeff Pilson (Dokken), Brian Tatler (Diamond Head), Laurie Mansworth (Airrace), The Answer, Café Bertrand, etc. Don't forget the late and great Phil Kennemore (Y&T), Omar (Trust) and Ronnie James Dio (Rainbow).
Of course, Brian Johnson, Angus Young, Malcolm Young, Phil Rudd and Cliff Williams, current AC/DC members, have also been interviewed, as ex-members Simon Wright, Chris Slade, Mark Evans and Stevie Young. These « first class » witnesses, and a lot of others, are telling, with an ocean of details, the french saga of AC/DC !
The biggest AC/DC die-hards should be surprised and shocked by some infos and revelations, but this book will also please rock and hard rock lovers in general.
This first volume, nicknamed « bible » by the fans, recommended by the medias and warmly welcomed by AC/DC members and ex-members , has met its audience as it is now completely sold-out and will never be reprinted in this format. We owe that success to your incredible enthusiasm. A huge thank you to you all ! Be ready for new adventures !